Thumpstar - TSC 125cc
$999.00
[Crate Price]
Pay for your purchase over four equal installments, due every two weeks payment of $249.75
Afterpay
---
Database
---
Our baseline models have provided our customers with an exceptional package for an affordable price. The TSC125 is nothing short of that. By making changes which increase the strength of our baseline models we think we have set the standard for the pitbike industry.
The TSC125 has received our signature stealth plastics which give is a sleek look, and makes it clearly distinguishable from knock off brands. The frame has been redesigned, it is now a wrap around frame which provides a much stronger package, and accommodates a stronger swing arm.
The YX engine offers relliablity and performance, while maintaining the famous TSB value by packing it between our standard frame and standard suspension.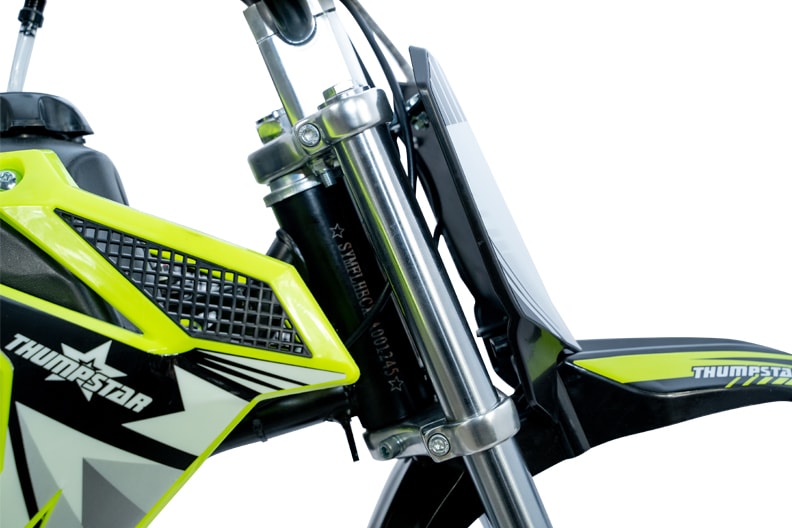 Forged Clamps
Building a bike that lasts has been paramount to us here at Thumpstar. We have re-engineered the triple clamps on the TSC125 and produced a heavy duty forged package that will stand up against hard knocks and bumps.
Wrap around Frame
Traditional mini bikes produced by our competitors have a CRF50 style frame, we went back to the drawing board and applied our knowledge from larger heavier duty bikes. The new TSC125 frame is what we call a wrap around frame where the swing arm sits between it and the engine, which reduces stress on the bearings and gives the overall system better strength.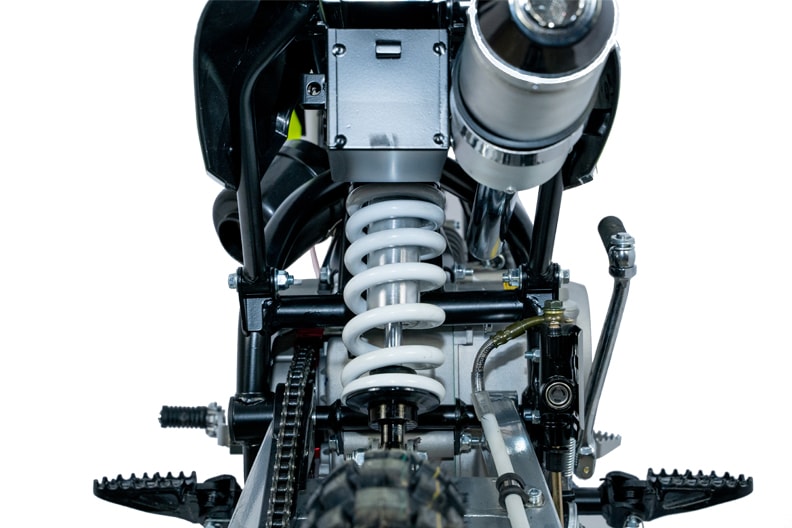 Waterproof Wiring
Building a bike that will last has been a main focus of ours since the beginning. This means we have to produce a motorcycle that will stand the test of time and exposure to the elements. We have given the TSC125 the same waterproof wiring system that its bigger brothers the TSX125 and TSX140 have.
Stator Guard
Rider protection is a feature that we take into consideration when producing any bike. We redesigned our stator guard firstly to protect the rider from any sort of chain grab around the foot, but also to protect the engine should the chain or sprocket malfunction and let go.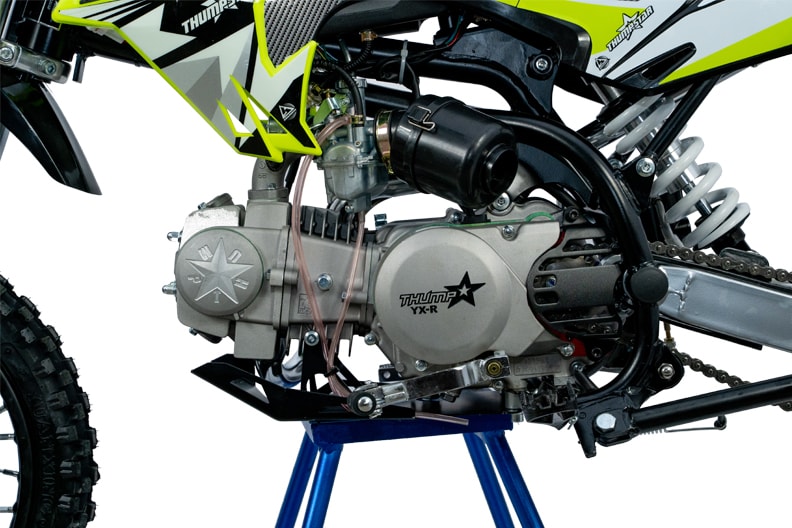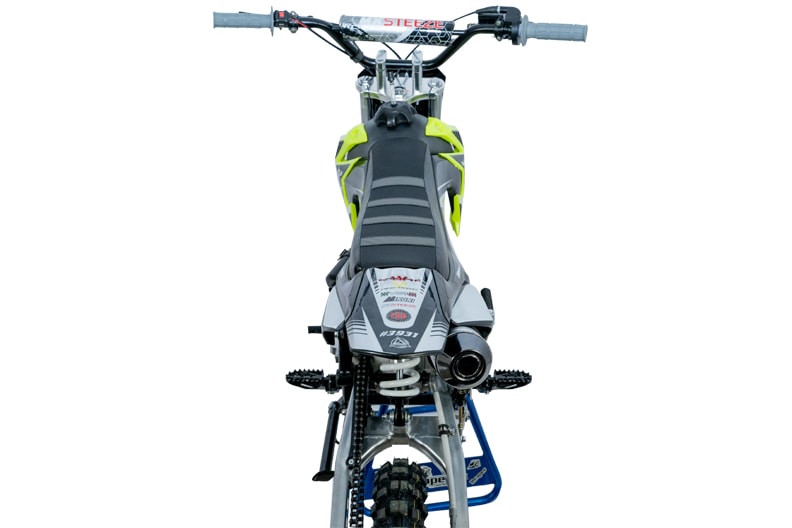 New Plastics Stripe Seat
The TSC125 has had a bit of revamp on many levels, we thought since our mid and full size bikes were getting new skins, the TSC125 shouldn't be left out. It has received the full stealth plastics kit accompanied by our new gripper striped seat, giving a sleek and stealthy new look.
Mikuni carb
Reliability comes with using trusted brands of parts. The TSC125 now includes a Mikuni VM22 carburetor which allows us to faithfully say that the performance and reliability of these bikes has been greatly improved on previous models.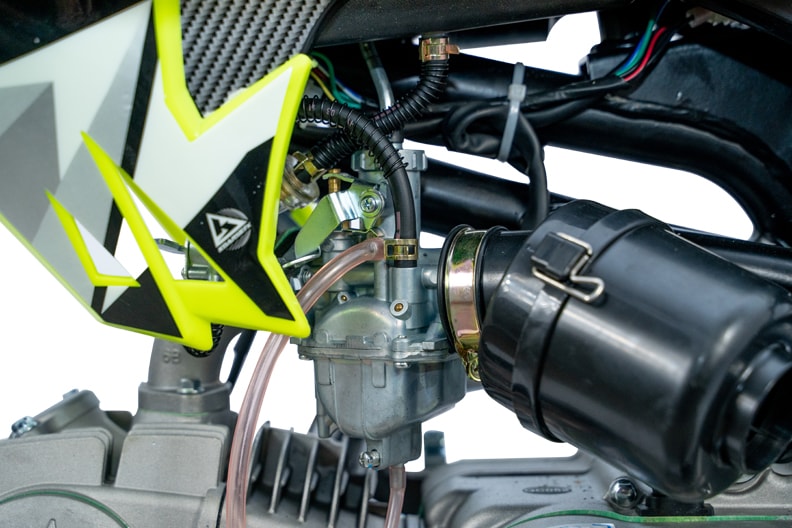 Specifications
ENGINE & TRANSMISSION
Engine
YX | 4 Stroke
CC Rating
125cc
Gearbox
Manual | 4 Speed (N1234)
Starter
Kick
Carburetion
Mikuni VM22 26mm
Exhaust
Standard 28mm Exhaust System
Final Drive
428 Chain
Top Speed
90kph / 55mph (depending on gearing)
 
 
SUSPENSION, BRAKES, & WHEELS
Suspension Front
Conventional Forks | Length 630mm | 33/40mm
Suspension Rear
Mono shock | Length 285mm
Brakes Front
Disc | Single Piston
Brakes Rear
Disc | Single Piston
Wheel & Tire Front
Steel Rim | 70/100-14
Wheel & Tire Rear
Steel Rim w/ Rim Lock | 80/100-12
 
 
DIMENSIONS & WEIGHT
Wheelbase (axle to axle)
1060mm | 42"
Seat Height
780mm | 31"
Product Weight N.W | G.W
65/75kg | 143/165lbs
Tank Capacity
3 Litres | .80 gallon
Product Packing Size
1320x355x640mm | .31 m3
Paypal
You can send your payment here: http://paypal.me/thumpstar
Afterpay - Shop now, Pay Later
Click this link for Afterpay AFTERPAY
Credit cards & Debit cards (Will require a photo of a ID card for all paypal and credit card purchases): We accept Paypal, Visa, Master Card payments through our website. Our checkout pages are encrypted using SSL, Credit Cards are verified in real time using Paypal and checked again via Riskified to ensure maximum security.
Online Banking: Payments can be made by direct credit bank transfers. Simply Checkout, and click bank deposit option, you will then be emailed an invoice, remember to use your order number as a reference. Order over the Phone: To make an order over the phone, simply call 03 9344 1564 International +61 0393 44 1564 to speak with one of our friendly customer service team. They can email you an invoice directly and will be able to help you with any questions you may have, as well as placing orders over the phone.
We have ANZ and Commonwealth Bank Accounts for direct deposits.
Motorcycle Shipping
To purchase a Thumpstar Motorcycle or Engine you can order here direct, we are based in Perth, Western Australia, we offer freight Australia Wide to Startrack Depot or Business Address.
As soon as your order is confirmed you will receive a confirmation, then expect your tracking number within 2 days time.
Thumpstar Australia Contact Details,
Thumpstar Australia Dealer #26768

+61 3 9344 1564

support@thumpstar.com.au

3 Barnett Court,

Morley, WA 6062,

Australia
Parts
To order parts please visit Thumpstar international parts ordering website parts.thumpstar.com.au

Notes
If you are in Perth you are welcome to visit Thumpstar Australia's Shop – No Limits Moto, they have a full range of parts and motorcycles on display. Can also order parts over the phone direct from them by calling - 08 9276 1330
WE DO NOT SHIP THUMPSTAR MOTORCYCLES OUTSIDE OF NEW ZEALAND OR AUSTRALIA
Email us at support@thumpstar.com.au if you have any questions.
ABOUT OUR COMPANY
Genuine Thumpstar the original mini bike brand that started in Australia back in 2004, we have extensive knowledge on all mini bike related inquiries..
Help Ordering
If you are unsure on ordering a part, we recommend watching our Youtube video under Info/Video tab or visiting our workshop section, if you still need help then please contact us,
Phone: +61 3 9344 1564
Email: support@thumpstar.com.au
---
More from this collection