Thumpstar - MX 85cc
$3,999.00
[Crate Price]
or 6 weekly interest-free payments of $666.50
What's this?
---
Database
---
Bring back the 2-strokes!
We are releasing a small batch of our 4th gen 85cc to YOU, limited numbers available.
For the past few years we have been conducting research and development of one of our most exciting projects yet! The Thumpstar MX line of bikes. This bike has been tested and raced throughout Australia over the last couple of years and it has been doing great, finishing with strong results, often podium placings in both MX and Endurance racing. Looking forward into 2020 will be releasing our first race ready line of 85cc two strokes which will stack up and compete, without the worry of a heavy price tag when your jr racers are just starting out.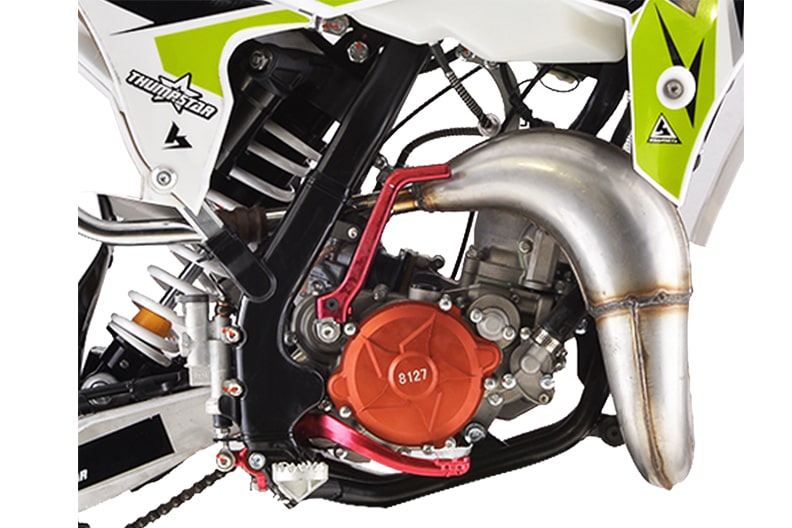 85cc Race Engine w/ Power Valve
Our design and development team have put together the ultimate 2-stroke 85cc engine package which delivers sufficient power and performance to compete with the other race ready bikes in the Jr 85cc class. At the heart of the bike sits a 84cc, 1-cylinder, 2-stroke, water-cooled engine with reed intake.
Keihin PWK 28 Carb
Reliability comes with using trusted brands of parts. The now includes a Keihin PWK carburetor well known to the motocross world. Keihin PWK carburetors are the dominant carbs on the factory motocross machines. Because of their great performance they come stock on a lot of the leading brand bikes. With these features you can take advantage of Keihin's superior performance to propel you to the race win.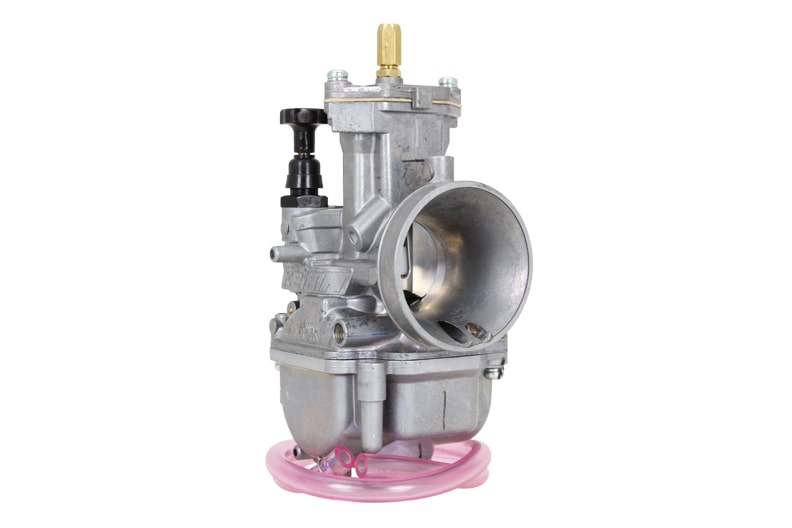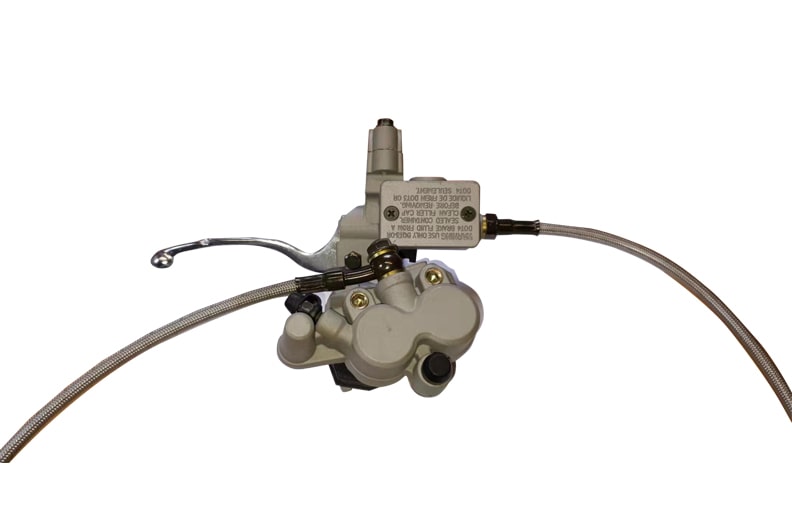 6 Speed Gearbox w/ Hydraulic Clutch
A 6 speed gearbox paired with the hydraulic performance multi plate wet clutch provides clean and easy gear selection, manageable acceleration, and makes race starts and overall rideability a breeze.
Fully adjustable suspension
Our top of the line VS1 suspension provides a fully adjustable and responsive package which gives the rider full feel and control of the bike through ruts, over bumps, up takeoffs, and down landings.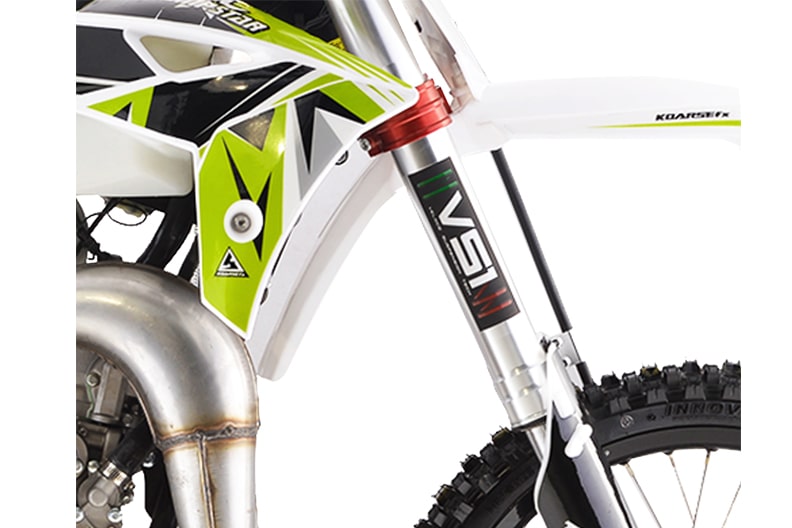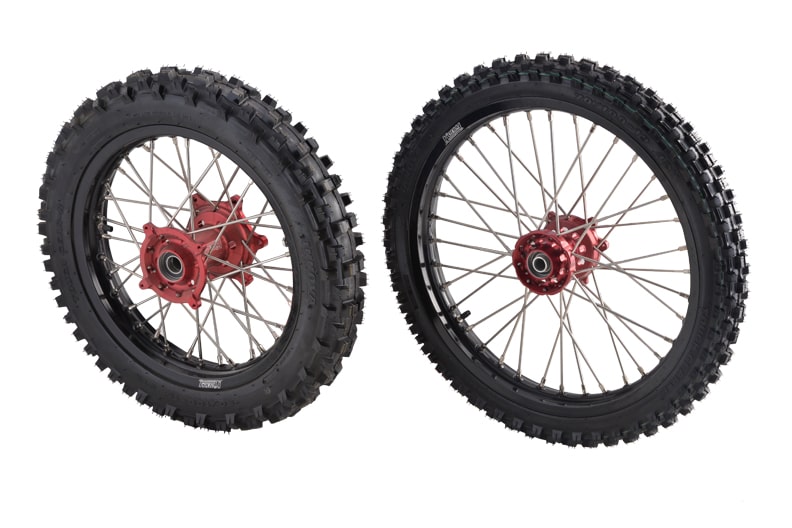 7075 Rims w/ Stainless Steel Spokes
The rims are made of 7075 series alloy and are used by almost all top riders. The AK7 rim keeps on being the best, strongest and most reliable rim we produce. Stainless steel spokes prevent stretching and snapping which is a common issue with other types of steel spokes.
Pipe Bomb Exhaust
What is a two stroke without that scream when on the pipe that we all know and love? Our tuned expansion chamber and muffler package provides that crisp sound, with tuned performance.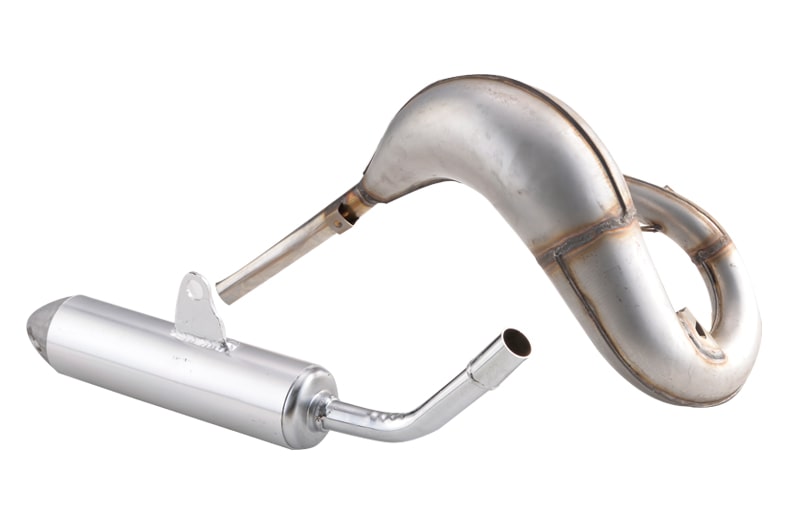 Specifications
ENGINE & TRANSMISSION
Engine
85cc Race Engine
CC Rating
84cc
Gearbox
6 Speed with Hydraulic Clutch
Starter
Kick
Carburetion
Keihin PWK 28
Exhaust
Pipebomb Exhaust
Final Drive
TBA
Top Speed
TBA
 
 
SUSPENSION, BRAKES, & WHEELS
Suspension Front
Adjustable Upside Down VS1 Forks
Suspension Rear
VS1 PDI Mono Shock
Brakes Front
Hydraulic, Dual Pot Calipers
Brakes Rear
Hydraulic, Single Pot
Wheel & Tire Front
TBA
Wheel & Tire Rear
TBA
Max Load
TBA
 
 
DIMENSIONS & WEIGHT
Wheelbase (axle to axle)
TBA
Seat Height
BW / 93cm
Product Weight N.W | G.W
TBA
Tank Capacity
5 Litres
Product Packing Size
TBA
Disclaimer
These are motocross race bikes, motocross can be a dangerous sport, and Thumpstar holds no responsibility for those who may be injured partaking in the sport. The race bikes come with a base tune and we reccomend that your mechanic may need to rejet it to get the best performance out of the bike. We ship these bikes globally which mean jetting adjustments may be recquired in varying locations and countries the bikes are shipped to. As a performance motorcycle Thumpstar holds no responsibility for damages that may occur to the bike and or engine as a result of incorrect or lack thereof tuning, and or user error when setting the bike up.
Paypal
You can send your payment here: http://paypal.me/thumpstar
Afterpay - Shop now, Pay Later
Click this link for Afterpay AFTERPAY
Credit cards & Debit cards (Will require a photo of a ID card for all paypal and credit card purchases): We accept Paypal, Visa, Master Card payments through our website. Our checkout pages are encrypted using SSL, Credit Cards are verified in real time using Paypal and checked again via Riskified to ensure maximum security.
Online Banking: Payments can be made by direct credit bank transfers. Simply Checkout, and click bank deposit option, you will then be emailed an invoice, remember to use your order number as a reference. Order over the Phone: To make an order over the phone, simply call 03 9344 1564 International +61 0393 44 1564 to speak with one of our friendly customer service team. They can email you an invoice directly and will be able to help you with any questions you may have, as well as placing orders over the phone.
We have ANZ and Commonwealth Bank Accounts for direct deposits.
Motorcycle Shipping
To purchase a Thumpstar Motorcycle or Engine you can order here direct, we are based in Perth, Western Australia, we offer freight Australia Wide to Startrack Depot or Business Address.
As soon as your order is confirmed you will receive a confirmation, then expect your tracking number within 2 days time.
Thumpstar Australia Contact Details,
Thumpstar Australia Dealer #26768

+61 3 9344 1564

support@thumpstar.com.au

3 Barnett Court,

Morley, WA 6062,

Australia
Parts
To order parts please visit Thumpstar international parts ordering website parts.thumpstar.com.au

Notes
If you are in Perth you are welcome to visit Thumpstar Australia's Shop – No Limits Moto, they have a full range of parts and motorcycles on display. Can also order parts over the phone direct from them by calling - 08 9276 1330
WE DO NOT SHIP THUMPSTAR MOTORCYCLES OUTSIDE OF NEW ZEALAND OR AUSTRALIA
Email us at support@thumpstar.com.au if you have any questions.
ABOUT OUR COMPANY
Genuine Thumpstar the original mini bike brand that started in Australia back in 2004, we have extensive knowledge on all mini bike related inquiries..
Help Ordering
If you are unsure on ordering a part, we recommend watching our Youtube video under Info/Video tab or visiting our workshop section, if you still need help then please contact us,
Phone: +61 3 9344 1564
Email: support@thumpstar.com.au
---
More from this collection